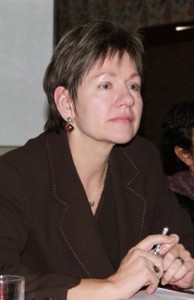 We are delighted to announce that Marcia V.J. Kran has joined IWRP as our senior adviser on international women's rights law.
Marcia is an experienced international human rights lawyer and political scientist specializing in women's rights and democratic governance who brings to her advisory role at IWRP over 35 years professional experience with the United Nations at the United Nations Development Programme (UNDP) as well as the Office of the High Commissioner for Human Rights (OHCHR) and the Government of Canada. Until the end of 2013, she was the Director of OHCHR's Research and Right to Development Division in Geneva. The Division advises the UN High Commissioner on policy and positions in the areas of women's human rights, gender equality and other key rights issues.
 Marcia was formerly the Head of Policy and Programmes at UNDP's Regional Centre for Asia and the Pacific in Bangkok supporting development programming in 27 countries in line with UNDP's Gender Strategy. Before that, she led UNDP's Democratic Governance Practice Team for Europe and the CIS Commonwealth in Bratislava serving 25 countries. She directed the national justice programming team at the Open Society's legal programme based in Budapest, covering Eastern Europe and the CIS. She was also an adjunct professor of international human rights law at the Faculty of Law, University of British Columbia, and Policy Counsel at the Department of Justice – Canada in Ottawa. 
 In 2005 Marcia was awarded the Walter S. Tarnopolsky Prize by the International Commission of Jurists (Canada) in recognition of her outstanding contributions to international human rights. The following year, she received a Celebrated Alumnus Award from the Faculty of Arts, University of Manitoba. She now lives in Vancouver with her husband, Luis Molina, and consults for the UN. Marcia's extensive experience and longstanding commitment to women's rights will contribute to reinforcing the ongoing collaboration, research and advocacy initiatives of IWRP.