Climate Wise Women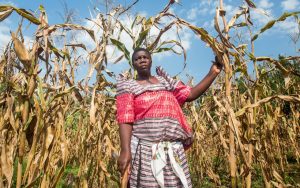 IWRP works in collaboration with a wonderful grassroots women's climate change organization, Climate Wise Women (climatewisewomen.org). Climate Wise Women's mission is to increase recognition for women's leadership and climate wisdom and to insure access to the critical resources necessary for their leadership – and their communities – to succeed. We began our relationship with CWW at the 2012 Rio +20 conference in Brazil. CWW's strategic approach to leadership development has supported more than 50 international trips for grassroots women activists and subsistence farmers to speak at global climate change meetings. IWRP has been assisting CWW by connecting grassroots women's groups with international funding opportunities and assisting with grant writing, budgeting, and reporting. An example is the community bookkeeping training where Constance Okellet's organization, the Osukuru United Women's Network, has trained over 400 community members in the Tororo District in basic bookkeeping skills, enabling rural women to track the revenues from their harvests and providing a framework for new entrepreneurial initiatives. A new initiative is in the planning, to develop Women's Climate Centers as a network of groups across Uganda and Kenya to provide localized peer-to-peer training in climate resistant agriculture, water and hygiene management, sustainable energy and conservation as part of an agile knowledge-sharing and capacity-building curriculum. CWW is institutionally based at the Earth Island Institute (earthisland,org).
Projects and Missions on Environmental Issues
For many years IWRP has been working on issues of climate change and its impact on women. Much of our work for different UN and other agencies – UNDP, UN Women, UNIDO, OSCE, ADB, GEF – has focused on various aspects of climate change. IWRP has had a long working relationship with the Global Environment Facility (GEF) on transboundary waters issues, drafting gender equality strategies, carrying out gender analyses, and ensuring a feminist analysis is incorporated wherever possible, particularly on water governance projects. Another example is a project on how to include women's rights and a gender analysis in the national plan for the removal of Persistent Organic Pollutants (POPs) in the Maldives. In 2015 IWRP worked with CAREC and the OSCE in Central Asia conducting trainings on the link between water governance, women peace and security. Cleary, climate change creates enormous stressors on water, agriculture, and governance. In 2016, IWRP worked with the International Center for Biosaline Agriculture on a water governance project for the Tigris Euphrates river basin in the Middle East looking at gender and human rights.
Research
IWRP is beginning a research project on the links between climate change and violence against women in its multiple forms. A scoping mission was undertaken to Uganda in mid 2017 and to Nunavut in mid 2018 to begin the research.