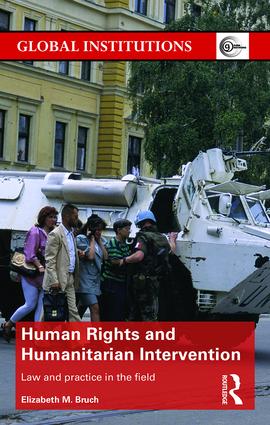 We are very pleased to announce that our International Advisory Committee member Dr. Elizabeth Bruch of the University of Washington Tacoma, USA has published a new book entitled "Human Rights and Humanitarian Intervention: Law and Practice in the Field" (Routledge, 2016). 
Here's a link:
https://www.routledge.com/Human-Rights-and-Humanitarian-Intervention-Law-and-Practice-in-the-Field/Bruch/p/book/9781138190559
Human rights, peacekeeping, and humanitarian intervention have emerged in the past decades as important components of international law and practice. Adopting a methodology of Institutional Ethnography informed by Actor-Network Theory, this book traces the practices of law and expertise from global IGO headquarters to the 'field' and back again, and through various contemporary field missions from Bosnia to Afghanistan and East Timor to Sierra Leone.
It answers several fundamental questions:
How is human rights law engaged in 'establishing the peace,' 'rebuilding the nation,' and 'restoring the rule of law' in post-conflict situations?
How do human rights experts use law in their everyday work in the context of humanitarian intervention?
How are law and expertise established, sustained and transformed in the field?
Offering a complex and nuanced explanation of humanitarian intervention based upon a multi-dimensional understanding of law and power, this book will be of interest and use to scholars, students and practitioners in international law and policy, human rights, and humanitarian intervention. Its cross-disciplinary approach should also appeal to the professional communities engaged directly and indirectly with projects of humanitarian intervention – including staff at inter-governmental organizations, international lawyers and practitioners, and activists.